Payments can be made with a credit card, ACH, electronic funds transfer, or check.
Choose your payment method during the checkout process and when renewing via "Manage My Subscriptions". Need an invoice? Choose the "Check/PO" method and an invoice will be emailed to the account owner to process.
Payment Methods:
1. Paying by Check/PO, where do I mail a check? Where to Mail Check Payments:
FTR
1720 North Kinser Pike, Suite 210
Bloomington, IN 47404
2. Interested in the ease of Electronic Fund Transfer or ACH? Choose pay by Check/PO and then email billing@ftrintel.com for instructions to set up the electronic payment or ACH.
3. Need to include a PO number on your invoice? Choose pay by Check/PO and then email billing@ftrintel.com the PO number to include on the invoice. List the company name, contact, and telephone number.
4. Credit Card Payments can be completed during the check out process. Using "My Payment Methods" you can add and delete credit card details. If you chose a different payment method but now want to pay by credit card, email the FTR billing team at billing@ftrintel.com for assistance. A secure link can be emailed to process a credit card payment.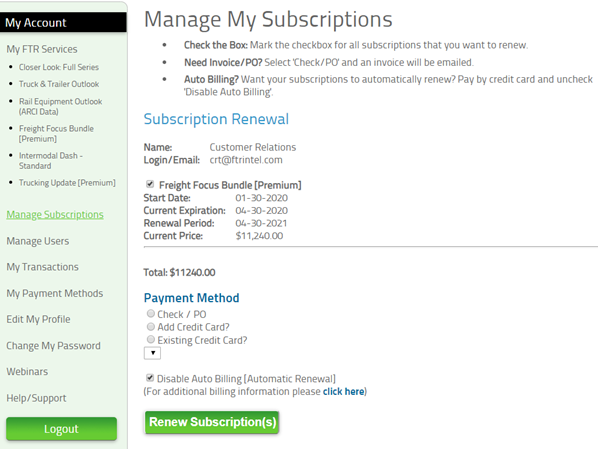 Contact the FTR team by submitting a Support Ticket using the link below.